Without doubt Walking, Cycling and Running are popular activities for locals and those on vacation in France particularly in the forrets in this area.
There are many routes which are marked clearly on the tracks by wooden posts with Yellow caps and additionally indicate the direction you should turn.
These posts and the markings on them are set up for moving in a clockwise direction, as advised one day, by workmen repairing them.
One of these tracks passes through Pessel next to the Cottages.
Cycling Times:
It must be noted that these tracks are unpaved for most of their length and to cycle on these, a Mountain Bike is essential.
Cycling on the paved roads is tempered by the elevation changes and the following are timings taken by a couple in their 30's.
Cycling Times on paved roads for some local destinations to/from Domaine de Pessel, elevation  195 m
Le Buisson de Cadouin:   To – 45 minutes                       From – 75 minutes
Siorac en Perigord:            To – 25 minutes                       From – 40 minutes
Cadouin:                                 To – 30 minutes                      From – 40 minutes
The differential times reflect the changes in elevation along the route to/from Pessel.
This photograph is of the information board next to Urval Mairie.
It covers the large area centred around Cadouin and Le Buisson and includes an enlarged map of the Urval area.
This is a different map of the route which passes through Pessel, which is on the left of the image, Urval is at the top of the image.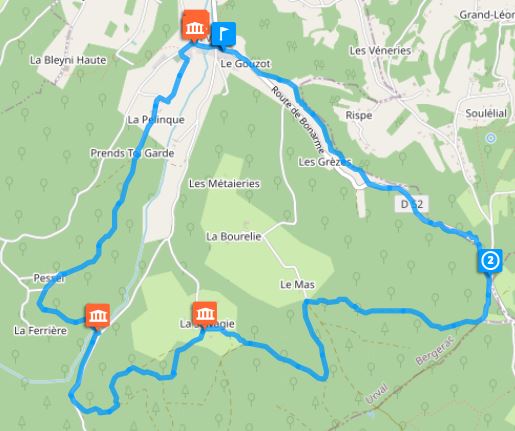 The above map is taken from https://www.cirkwi.com/fr/circuit/105403-urval-boucle-de-urval-sud.
The website https://www.cirkwi.com/fr is one of the best we have found for its completeness, clarity and accuracy.
It is also available from Apple appstore and probably Android with 'in app purchases'.
Apple gives it a 5 Star Rating from 1 review.
Maps are also available from the local Tourist Offices, including Soirac, which are available for purchase.