LOCATIONS
Domaine de Pessel is located in the Commune of Urval, in the Dordogne Department of Nouvelle Aquitaine and the main GPS Coordinates for us are:
44.799251° N  0.935084° E
44° 47′ 57.30″ N  0° 56′ 06.30″ E
The resulting GPS point is just outside our entrance gates.
Use this Link to convert GPS Co-ordinates: to/from Decimal ↔ Degrees,Minutes,Seconds
The Commune has introduced a new address system, so our address is now 529 Chemin de Pessel, Domaine de Pessel, 24480, Urval, this means our house is 529 metres from the  main Urval to Cadouin junction on the C5, if you keep left it is the first house on the left. See photographs below.
Note: Address numbers indicate which side of the road the property is located. Odd numbers – the left hand side and Even numbers – the right hand side.
An alternative method for locating us is to use the

what3words.com

website on PC, for iphone or android download the what3words app onto your device.
Search for or enter these 3 words including the full stops.
These are the English version words. chewed.stall.beholds
These are the French version words. pédalier.vermeil.rejouer
Note: Entering the English words into the French version still takes you to the same French (World) location (many other languages are available).
There maybe several similar options but select the Belves, Aquitaine option with the French flag.
The resulting location point is a 3metre x 3metre square in front of our entrance gates.
Read this BBC report (15/08/2019) on the backround and uses of the system. https://www.bbc.com/news/uk-england-49319760
The elevation of the Manoir is approx. 186 metres (610 feet)above sea level and the holiday cottages are approx. 195 metres (640 feet). The stone cross near Petit Pessel is 199 metres (653 feet), and nearby the highest point of the property and Pessel is 201 metres (660 feet ).
We find that at this elevation we experience wonderful, clear early mornings as any early morning mist or fog tends to settle further down the valley towards the Dordogne River and the sun can take longer to 'burn this off'.
Local Weather forecast for Urval: 12 Days ahead or Today.
Location of Pessel in the Dordogne.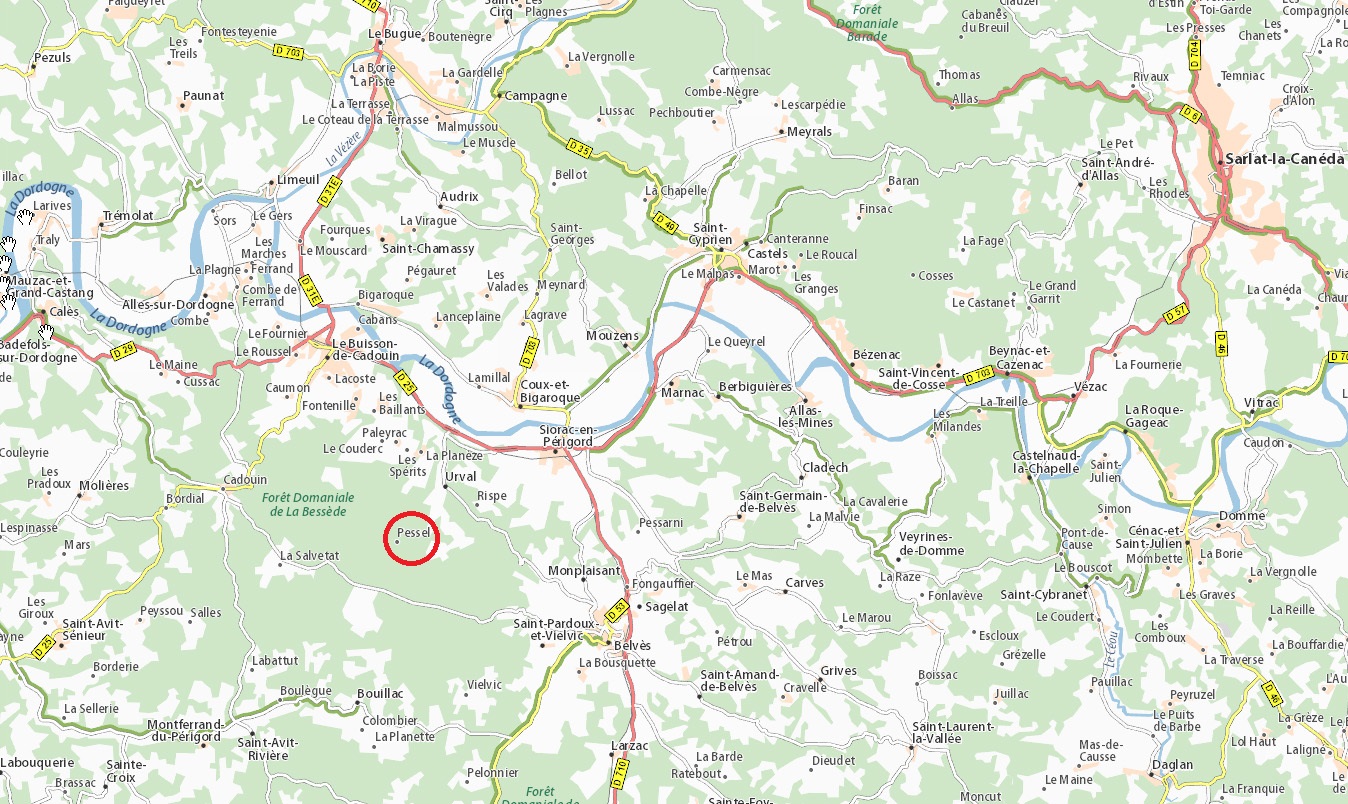 DRIVING
Domaine de Pessel and its Holiday Cottages are, by the nature of their location in the Forêt Domaniale de la Bessède, they are quite remote and it is essential that you either reach us in your own vehicle or hire a vehicle at your point of arrival in France. (Check with your airline as many offer flight and car hire Packages at good rates).
Access to Pessel via Urval from North:
So into Urval and turn right, go past The Maire and The Church and Bread Oven on your right.
At the wall ahead of you, turn left to Pessel (Signposted).
Continue past the Cemetery and up the hill for about 1KM.
Turn left at the Pessel sign on the left this is also marked as Chemin de Pessel.
At the Burgundy sign "Domaine De Pessel"  turn left.
Note: The street address is 529 Chemin de Pessel which is 529 metres from the Chemin de Pessel sign.
Warning: Google sometimes proposes an access routes on unpaved roads over forest tracks, these are not suitable for normal cars.
The only paved road access is off the C5 Urval to Cadouin road (the road at the top of the first photo below), turning onto the single track paved road Chemin de Pessel to Domaine de Pessel.
Route Planning
Using Google Maps Destination is pre-entered.
Using ViaMichelin Maps and Route Planner, enter Pessel, 24480 Urval, France, into the destination Box 'B'
Via Michelin is useful as it provides estimated total travel costs based on user variable data, such as Vehicle and Fuel type.
Fuel
Go to this French website mon-essence.fr to get up to date Fuel Prices for any area of France. (Note: Enter the local Town name, it does not recognize Post Codes)
There are also Smart Phone Apps for Apple and Google.
Use this Link Local Fuel Prices for our local area Siorac-en-Périgord.
Notes:
Supermarkets have become the main outlets for Fuel.
Often but not always, Fuel is a few cents cheaper in larger towns e.g. Bergerac, Sarlat.
Motorway Service Stations are always more expensive.
On main roads, filling stations operated by Total and other independent sellers, tend to be more expensive.
Electric Vehicles
The electric system at Domaine de Pessel including the Cottages is not suitable for charging Batteries of Electric Vehicles. Charging points are available in the Carrefour Supermarket Car Park in Soirac approx 9 km from Pessel.
Driving Times To/From Pessel
For approximate driving distances and times use the Route Planners above or the table below for main destinations such as Ferry Ports and Airports and some other locations.
This data is sourced from Google Maps. It is approximate and does not take into account refreshment stops, road works or closures, the density of traffic at various times of the day or season or the actual route chosen, so actual times and distances may be considerably longer.
We recommend that you check Google Maps route information or other Sat. Nav. programs for best route and traffic conditions, immediately before and whilst you are in transit to ensure that you are not presented with any major delays.
| From Pessel | Minutes | kilometres |
| --- | --- | --- |
| Urval | 6 | 2.6 |
| Siorac-en-Perigord | 15 | 7 |
| Belves | 18 | 10 |
| Bergerac-Dordogne Périgord Airport | 55 | 48 |
| Brive-Souillac Airport | 90 | 80 |
| Bordeaux-Mérignac Airport | 142 | 160 |
| Toulouse-Blagnac Airport | 150 | 180 |
| Paris | 329 (5h 29m) | 591 |
| Caen-Ouistreham Ferry Terminal | 400 (6h 40m) | 628 |
| St Malo Ferry Terminal | 425 (7h 05m) | 600 |
| Lille, France | 480 (8h 00m) | 807 |
| Calais Eurotunnel Terminal | 485 (8h 05m) | 878 |
Speed Limits on French Roads
Motorways and Péage Routes: Normally 130 kph, when raining this reduces to 110 kph. This can change so be aware of the actual speed limits which are clearly indicated.
New Speed Checks in the Dordogne from April 2022: Please read the article click on the Link below to read the English language news report from "The Bugle" relating to Speed Checking by Private Unmarked Vehicles.
"The Bugle" was available free, from most major supermarkets in the Dordogne area, sadly it ceased publication in February 2023.
https://pessel.uk/wp-content/uploads/2022/05/Private-Speed-Cameras.jpg
Other roads: Generally 90 kph (national speed limit), 70 kph or less depending on the road configuration.
When entering a town or village this automatically drops to 50 kph as soon as you pass the town or village Name Board, sometimes there will be a speed limit sign and underneath a plate 'Rappel' (Remember), but that is a bonus.
Some towns and villages impose a 30 kph limit, which will be sign posted and occasionally 'speed bumps' are in place, some can be very harsh so be aware.
Speed bumps may or may not be sign posted, be aware.
Some villages also have introduced 'chicanes' on the entry and exit of the village, these often have high kerbs on both sides of the traffic lane, again be aware of your positioning to avoid possible tyre damage.
FERRIES
Please refer to this website for information and pricing for Ferry Crossings www.aferry.co.uk
AIR TRAVEL
Cheap Flights
Check these Tips from Money Saving Expert.com for getting cheaper airline costs  They may or may not save you money but are worth knowing about, the tips may not last long, however, the website page we understand is regularly updated
AIRPORTS AND AIRLINES
This is the closest commercial airport for Domaine de Pessel. Below are the current the airlines which fly into Bergerac. Check the Airport and Airline websites for details of Airlines which fly in and out, as these can vary over the year and holiday season.
June 2021: – During the COVID-19 pandemic, services have been cancelled in different countries and by individual Airlines. Some of the Airlines listed have sadly ceased operating entirely.
Flybe.com
Note: On 28th January 2023 the Company failed again, click on website address for latest information.
Other Airports: See websites for available services.
Toulouse and Bordeaux offer a greater number of daily flights and international destinations, Brive has more limited flight schedules.
Get up to date arrival and departure times on your Airline website or on www.flightradar24.com on desktop computers.  This is also available as an app on iPhones and possibly on Android. It is a free app but enhanced features require in-app payment.There other Smart Phone apps which can also provide this information.
OTHER
Aérodrome de Belvés – Saint-Pardoux (LFIB)

For those who have access to a Private Aircraft, BELVES aerodrome with a grass runway, which is approximately 790 metres long. It is 11 kilometres, 19 minutes, by road from Pessel, 2.5 km 'as the Crow Flies'.
They also hold an airshow over a few days in August – see their website for news when the next show will be held.
TRAIN
The main local train Station is Le Buisson de Cadouin (1) approx 9 km, 16 minutes driving, to the North West, alternatively Soirac en Perigord (1) approx 6km, 10 minutes to the North East.
Trains run:
West (2) or (3) – to Bergerac, Taxi to Bergerac Airport. 
West (2) or (3) – to Bergerac and onward to Bordeaux train station (about 2 hours 30 minutes). Transfer by Bus and Tram or Taxi to the Airport.
Or transfer to new TGV link to Paris – The average journey time between Paris and Bordeaux is 2 hours and 11 minutes and the fastest journey time is 2 hours and 3 minutes. On an average weekday, there are 21 trains per day travelling from Paris to Bordeaux at speeds of up to 320 km/hr.
Note: There are possible plans to establish a new high speed connection directly to and from London, without changing trains.
South (2) or (3) – to Agen to change for a train to Toulouse. Then take the Shuttle Bus directly from the Station to Toulouse – Blagnac international Airport.
North (2) – to Périgueux and onto Limoges for Trains to Paris.
East (3) – to terminates at Sarlat le Canéda, approx. 6.0€ one way. Tourist route only, no other onward train connection.
Notes:
(1) Trains run infrequently so careful planning is required if you intend to use this method of transportation.
(2) from Le Buisson de Cadouin (¹)
(3) from Soirac en Perigord (¹)